For Custom Shade Sails, we offer three high quality main fabric lines. Monotec, ExtraBlock, and Shadetex.
(Other fabrics are available on a limited basis)
Monotec 370
Monotec is an all monofilament shade cloth that is the strongest shade cloth on the market. It is most appropriate for larger Shade Sails. Fabric creases along fold lines
take longer in the sun under tension to go away. Made in Australia, Monotec 370 is made with 100% round monofilament HDPE yarns, making it the strongest shadecloth on the market. It's positive memory yarns require no re-tensioning.
Purchase Fabric Samples:
Click to learn about Monotec specifications…
 ___
ExtraBlock 330 FR (Fire Rated)
EXTRABLOCK is one of the worlds best FR rated shade cloths. It meets the California State Fire Marshall test for title 19. This is widely recognised as the most difficult FR test to meet and EXTRABLOCK gets a new certificate every year! EXTRABLOCK is a very dimensionally stable shade cloth with very similar biaxial strengths and extensions in both directions. EXTRABLOCK has a 12 year warranty against UV breakdown.
Purchase Fabric Samples:
Click to learn about ExtraBlock 330 specifications…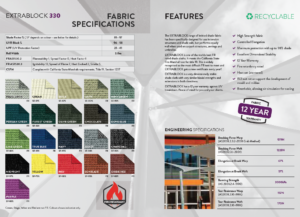 ___
Shadetex
About 15% less expensive than Monotec, Shadetex is a commercial quality monofilament and tape fill shade cloth that is made in Korea.  Though it is a heavy cloth it is not as strong as Monotec therefore we recommend limiting it's use to sails with perimeters less than 80′ around the edges.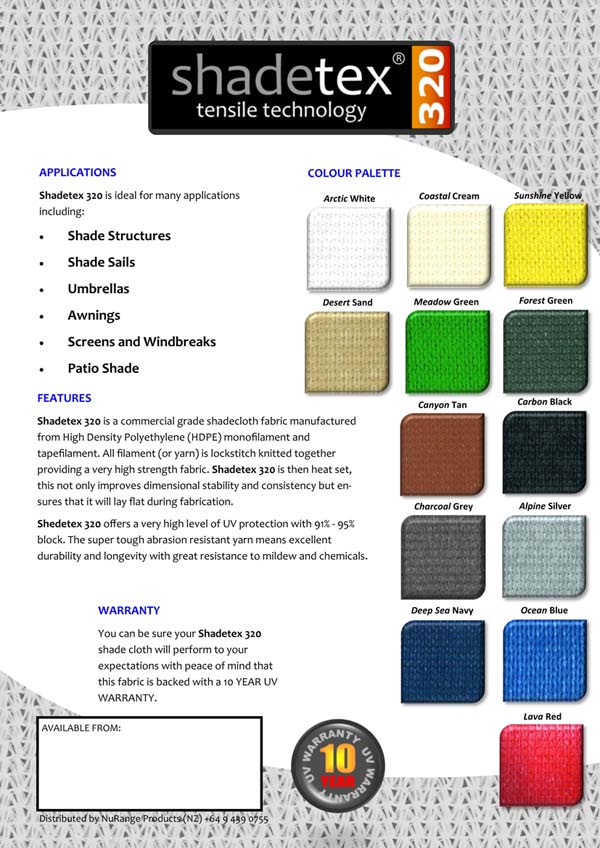 Shadetex 320 Brochure (click)    Same as used in our Skyclipse 320 Sails

Copy of Shadetex 320 A3 Brochure