Helpful Hints

& Installation Instructions for Shade Sails, Sun Sails
DISCLAIMER (Read carefully) The following installation suggestions and helpful hints for shade sails are offered as a courtesy to mail order purchasers and to facilitate accurate ordering of the product. Shade Sails does not and cannot know the specific intentions of purchaser stress factors, variables for the area such as soil, wind condition and exposure, existing structure strength, local access codes, etc. The following is offered only as a highly generalized summary of installation methods used successfully by Shade Sails in the past. Shade Sails makes no extension of warranty by these general guidelines and disclaims any responsibility for the installation, design of installation, engineering requirements, code compliance or any other installation related matter. Shade Sails offers these services on an individual contract basis and purchaser has elected to purchase the ready-made sail only as a more economical alternative.
Make Them Taut!! 
Nothing causes faster wear and tear than loose sails moving and banging in the wind. Most people don't make them taut enough!!
---

                                   EXAMPLE LAYOUTS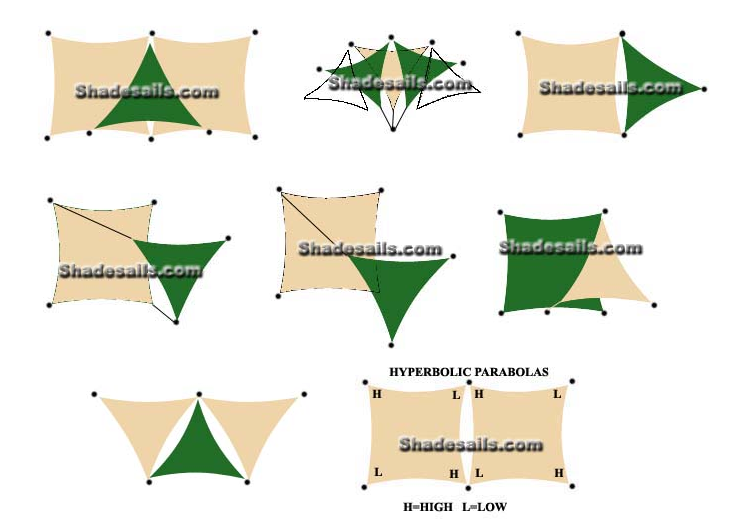 ---
Three dimensional membranes move less, sag less and look better!!!  They must have at          least four corners and the more height variation the better!!
Hyperbolic Parabolas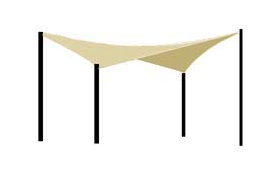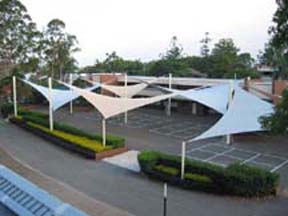 By varying the heights (2 lows opposite each other on a diagonal and 2 highs opposite
each other on the other diagonal you get a very stable, dynamic 3 dimensional shape..
    High Point Sail.. Just one high corner with 3 low corners also gives a 3 dimensional form..
---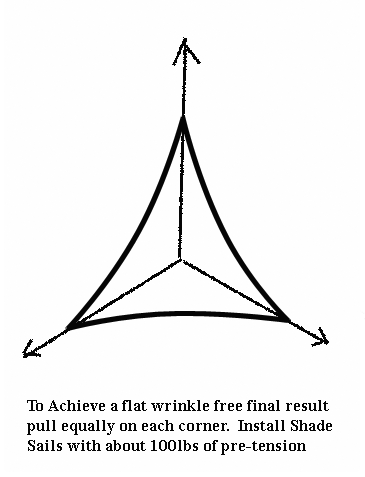 Step by Step
Step 1) Plan Your Installation
Check with your local building Dept. Some installations require a building permit. We are not responsible for obtaining permits or for engineering your installation. The following information is meant as a guideline and not intended to replace the services of a structural or civil engineer. Selecting the position: Before you commence installation it is very important that you consider the most suitable location for your shade sail(s) taking into account the following:  Size of the shade sail(s). Strength of existing structures intended to be anchor points. Ability to insert fixing posts.  Location of barbecues or Sun direction etc. Sails should be separated by about 18″when layered to avoid chafe. Watch out for tree branches that may also chafe the sails.
Step 2) Plan Your Supporting Hardware
Unlike custom made sails that are made to fit, you have to supply supporting hardware that is in line with the corners of the sail and provides enough room to add attaching hardware or rope. It is best to make the structural element's foot print 18″  larger than the sail's dimension so that variations in the sail's size is not a problem and there is enough space to add rope, links of chain, turnbuckle, shackles etc.  Do not add more than 24″ on more than one corner..(One corner per sail may be extended up to 30' but only a single corner) If you extend 2 or more corners with cable, rope or chain the membrane will move excessively in a wind and the resulting shock loads may significantly reduce the life of the sail.. Long leaders on multiple corners will void any warranty.
To help you visualize the Sails, you can also use string stretched between your planned attachment points. The first step is to measure.  Then make a scale drawing of the area you want shaded. 1/4 (or 1/8) inch = 1 foot. Then cut out scale drawings of the ready-made shade sails. Rotate them around to get ideas for the lay-out. Imagine a straight line from the center of the shade sail through the corner ring, that is where you need to put the attachment point. The fabric is a knit and most of the water sheds off the lowest point, but it is not waterproof.  Remember the sails do not have straight lines at the edges; they are constructed with a gentle curve that deflects about 10% over the length of each edge. We have found the best looking installations have bold changes in height from one corner to the next, and that overlapping sails or multiple sails give a more interesting look.
Step 3) Install Your Attachment Points
The attachment points should be installed first. Therefore, install your posts with eye-nuts, and to the house, tree or whatever you have chosen to support them, add eye bolts, pad-eyes or straps. Remember, there can be substantial wind loads. (From 5.5 to 15 lb. Per square foot of sail). These loads are divided between the corners, but it is important that what they attach to be adequate. For the posts, we usually use 4″ schedule 40 steel pipe (galvanized) or temporary power poles (treated) that are 6″ or larger. (Click Here for information on Posts)  Posts can be powder coated or painted to help protect them and provide the desired color. Steel pipe is usually found at a steel supply or pipe supply vendor. If timber posts are used, then generally use temporary power poles with a preservative added to the wood. They are usually embedded in a concrete footing, 3 ft. to 6 ft. deep and 1 ft. to 1.5 ft. in diameter. (Generally a third of the total length of steel or wood is buried so to get a 10' high post you should have about 5' in the ground with a total peice of steel 15' long). Plumb or slightly lean back the post and support it until the concrete has dried. If the posts are tall or more than one sail is attached then larger posts are usually called for. Install Eye nuts with threaded rod through the posts with the eyes pointed at the center of the sail. Attaching to Fascia is generally a bad idea unless the fascia can be reinforced or tied in adequately to the rafters. Often a pad-eye can be lag bolted to headers that are above windows and doors or to the top plate at the top of the wall. Also, it is often possible to connect to remote structures with wire cable spanning the distance.
Step 4) Attach to Your Fixing Point
The sails have a stainless steel ring at each corner that must be attached to your fixing point. This can be done in a variety of ways; the best method for the "do it yourselfer" is to tie them on with a length of low stretch Dacron rope. This gives a lot of adjustability and is very strong and inexpensive. For a more high tech look you can use stainless steel "D" shackles and turnbuckles or even chain.
Step 5) Pre-tension the Sail
Pre-tension the sails to about 100lb by tightening the rope or turnbuckle(s).
Care of the sails: Sails can be hosed in place or taken down and gently scrubbed
with a mild detergent.
Do not leave sails up in snow prone locations during winter months and unless your installation has been engineered for permanent use they should be taken down
when windy conditions exist.



Stock Size Sail  Connection Details
See Hardware Page for more

To span the distance between the corner of the shade sail and the attachment point use any of these options:
Usually you need to get the sail roughly taut using chain, rope, or cable.. These let you get it roughly adjusted and somewhat taut.
Then, add tension with either a turnbuckle(s) or length of rope as shown below.
5 common methods for attaching sails to fixing points:
Note: Do not add more than 24″ on more than one corner..(One corner per sail may be extended up to 30' but only a single corner) If you extend 2 or more corners with cable,
rope or chain the Shade Sail will move excessively in a wind and the resulting shock loads may significantly reduce the life of the sail.. Long leaders on multiple corners will void any warranty.
1.  1/4″ stainless steel chain
2.  stainless cable
3.  "D" shackles(s)
4.  Turnbuckle
5.  Low stretch Dacron rope
Hardware uses:
Rafter Bolt for attaching to a Rafter Tail.Corner Bracket for attaching to the corner of the building. Attach using four 5/16" Lag Bolts.
Long Bracket for attaching to a stud. Attach using four 5/16" Lag Bolts
4 Hole Pad Eye for attaching to a header above a door or a window.   Attach using
four 5/16" Lag Bolts
6″ Eye Bolt for attaching to 4″, schedule 40, galvanized pipe (find a  pipe / steel supplier in your phone book)
5/16″ Turnbuckle for tensioning, use one or two for triangles, two for squares
5/16″ "D" Shackle for corners that do not have a turnbuckle.
Or, just use low stretch Dacron rope for all the fixings.

Examples Shown Below: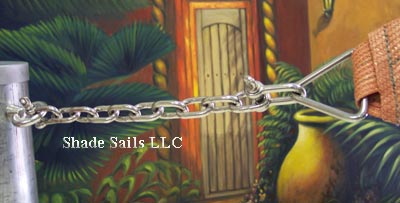 Use Stainless Chain and Shackles for easy rough adjustment

Or… Use Cable and Shackles for rough adjustment & high tech look.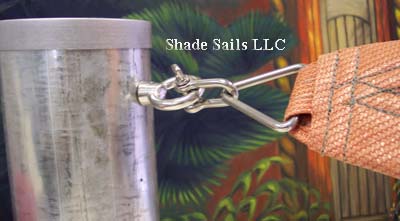 Direct connect with "D" Shackle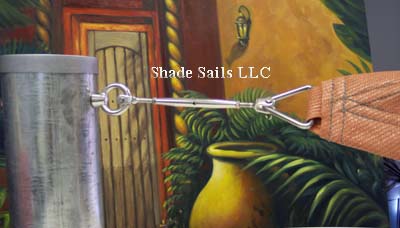 Turnbuckle for adding tension.
(usually 2 per triangle or quadrilateral)
On a 4 sided sail, put the tensioners opposite each other on a diagonal.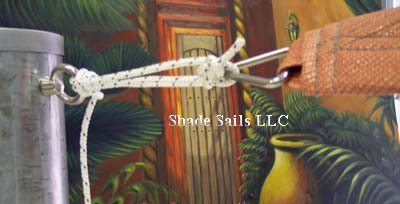 Or, use low stretch Dacron rope to add tension.
(usually corners 2 per sail)
Going back and forth between eye and ring works like pulley!
 

Have the fixing points make a foot print at least 1 foot larger than sail.

(2 foot larger is even better)
Use Chain, Rope, or Cable for rough adjustment (pretty tight)
Use Turnbuckle or Rope to add tension…(Very tight!)
Make sure to pull evenly out from all corners.
Don't skimp on tension… Loose sails look ugly and don't last as long!
For Custom Sail quotes please click here.
Still have a technical question then email Megan@shadesailsllc.com
Use of any photographs or text from this web site without our expressed   permission is prohibited.
Click here to read more about the benefits of outdoor shade for your living space!
Click here to learn about incentives for switching to Solar Energy in Texas.