Our Exclusive line of READY-MADE & Made to Order Stock Sizes Shade SAILS These sails are not available in Chain stores. We do not sell them through Home Depot or Overstock.com. Those are not our sails.  If you want the real thing you are at the right place. Note the photos from our competitors. Look out for the limp, wrinkled, baggy shape. Then look at our photos. Our sails are made to be put under tension and are true tensioned fabric structures. Not a tarp. Ours are made with the best materials using the right patterns to give equal tension under loads. Over 200 colors shapes and size combinations! The largest selection in the world! 3 Quality ranges to choose from… choose below.
Skyclipse 280
Skyclipse 280–Better than in the chain stores! "High Value" Our Asian import ready-made Shade Sails made exclusively to our strict specifications with 280gm/sqm weight cloth.  Edges are reinforced with tough webbing.  They are engineered and patterned for proper tension.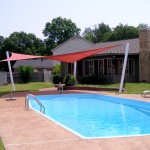 Skyclipse 320
Skyclipse 320– Our Standard for over 14 years! "Premium Quality" Made to Order with 320gm/sqm weight cloth.  Higher Quality fabric and construction with 2 rows of locking stitch.   Sewn with UV resistant Solar Fix thread.  168 combinations of color and sizes.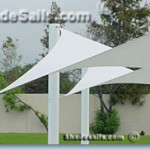 Skyclipse 370
Skyclipse 370–Made with the strongest fabric available!
Commercial Quality Heavy Duty Made to Order Shade Sails. Same construction, fabric and quality as our Custom Commercial Shade Sails. By far the strongest "Ready Made" Shade Sails on the market. There is nothing equal to these anywhere! Essentially the same as our commercial custom sails at about half the price. Made with all monofilament "Monotec" 370 gm/sqm weight fabric and sewn with "Solar Fix" PTFE UV resistant thread.